Images courtesy of NASA & Pacific Northwest National Laboratory - Creative Commons License
Final program (including abstracts and schedule) available here
Check-in and refreshments start at 8:15
Opening remarks are at 9:00
The first talk is at 9:10
Welcome
Frontiers in Biophysics is a one-day scientific event intended to highlight the research interests of students and researchers in the fields of physical biology, chemical biology, biophysics, and mathematical biology communities from SFU, UBC, UVic, and other institutions in the Pacific Northwest, including those in Washington state.
Participants from undergraduate to emeritus are welcome. This event is an opportunity to learn about and discuss the research conducted regionally.
Keynote Speaker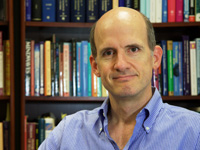 We are excited to announce this year's keynote speaker is Michael Hasselmo. He will be giving a talk entitled:
Grid Cells and the Dynamics of Entorhinal Cortex
Michael is the director of the Center for Systems Neuroscience at Boston University. His work involves the study of how neurons interact to provide episodic memory and spatial localization.
He has been heavily involved in research of "place cells" and "grid cells", which were the basis for this year's Nobel Prize in Medicine and Physiology. If you would like to read more about Michael's work, you can find details
here
.
Previous Frontiers in Biophysics Conferences
Programs from previous conferences can be downloaded below.
Sponsors
The 2015 Frontiers in Biophysics Conference would like to thank our generous donors for their contributions. Without the help of these organizations, the conference would not be possible!
Contact Us
If you have any questions or comments, email us:
frontier.biophysics@gmail.com